Fattening cows, can this work?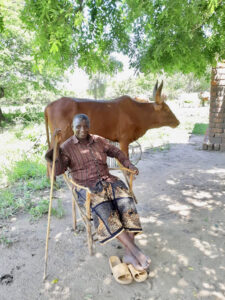 Msowero, May 2023. It all depends on the rain. Because the rains did not come last year, many farmers in Msowero were unable to harvest maize. Instead of selling it, they used the previous year's stored maize for sowing. This is why they could not pay back the advance payments from the trading company TBM. To stay in the maize business with TBM and pay off the debt quickly, they produced an idea: to buy skinny free-range cows cheaply from the Maasai and fattening them on their farm for five months. The proceeds will serve to pay off their debt. They hope that the rains will cooperate this year.
farip is also involved in this business, providing five small loans to reliable and influential farmers to test their idea for suitability. It does not seem to be working badly, although this year the rains are very late and sparse. As a result, the farmers want to keep and feed the cows for two months longer than planned.
Let's see. Once again it proves true that the path from an innovative idea to a successful trial can be really bumpy. In any case, Malahi Chalahani, an elder of the Sukuma clan in Msowero, is very confident.
DRYNESS
Msowero, June 2022. Eastern Africa is experiencing a great drought; the maize of this year's harvest in Msowero is drying up in the fields. farip supported the marketer «TBM», to establish sheet metal grain silos for one tonne of grains on farms. Farmers could store maize and benefit from seasonal price increases. However, what families have left on stock from last year's harvest is now their own food security.
It is good to see that the grain silos play a vital role, but the the revenues are not forthcoming because of their own needs. How should it continue? The silo farmers in Msowero are now looking into solutions with marketer «TBM». farip is prepared to suspend loan repayments until they can adjust production and marketing to the changed circumstances.