COMBINING CARGO SERVICE WITH THE POINTS OF SALE VENTURE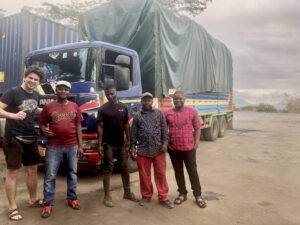 Morogoro, November 2022. The truck drives more regularly and reliably now, despite the need of repairs on every trip. What else can be expected with these roads and distances: Tanzania is as big as Germany and France combined! Waiting for cargo has somewhat improved. The "Scheduled Cargo Service" team is now better known and considered reliable among the haulers in Dar es Salaam. The service is now just about break-even with two tours per month. Since the start of operations two years ago, a small part of the 50 million Tanzanian Shillings loan has already been repaid to farip. 
This is how it works: farip acts like an investor, giving loans for new business ideas, for pilot projects and investments; this enables the initiators to test in the business-suitability of their ideas in a pre-commercial proof-of-concept.
The bill will start looking even better as soon as the truck is heading for the planned "Points of Sale" in cities along the route to Dar es Salaam. Setting up the first three points of sale is now the challenge; farip is providing support with coaching and a loan. This combined support is crucial for the success of these ventures. Soon a third tour per month will be possible, which will prioritise delivery to 'our' "Points of Sale" and storage points. This will help to mitigate the many unforeseeable events and coincidences of the previous transport orders.
How do marketing chains need 'to be knitted', so that gains get back to the producers, increasing farm incomes? Bahat Tweve developed this "TSS" mechanism as an answer, with the support of farip.
A new, equally challenging business field is already emerging: the "Scheduled Cargo Service" could work like a kind of "DHL" and deliver small packages from Dar es Salaam to the various destinations such as Iringa, Mafinga, Makambako, Njombe and Mbeya in the southern highlands.
FREIGHT SERVICE ON SCHEDULE
2021-02-23. Innovations are not easy to realise. Farmers in southern Tanzania face great difficulties in transporting their agricultural produce. They never know if they will get a truck, and there is no guarantee of delivery at the agreed time. Sometimes it doesn't work at all. But without reliable market access, farming families cannot improve their income.
A local Tanzanian idea could help: Let's try to change the whole system and have a truck drive like a bus! With a fixed timetable and defined regular stops! If you want to transport something, you can make a reservation and pay for the freight in advance. Rajan and Francis want to introduce a Scheduled Cargo Service SCS, a "freight service on schedule". Like a passenger bus, trucks would follow a predetermined fixed route according to a timetable and stop at fixed stations for loading and unloading. Anyone who has something to transport can reserve space via a text message and pay for it via mobile phone. They can thus secure reliable transport with little effort. Not only for large tonnages, but also for individual sacks, bananas, baskets, crates and small items.
Makambako, 23 February 2021. The Scheduled Cargo Service (SCS) project is progressing as sluggishly as vehicles on back roads in Tanzania. Damage to the truck during the rainy season forced a major repair to the chassis. As soon as the truck was fit to drive again, it became clear that the farmers were not as enthusiastic about the innovative experiment as they had hoped. They first want to experience directly whether and how such a scheduled transport service works reliably from their remote villages to the city. That yet needs to be demonstrated.
SCS wants to pay back the large loans from farip as quickly as possible, and that is why they are trying to generate revenue with the previous opportunistic transport offers – we drive when we are full – even if this completely contradicts the intended timetable. But without demonstrating a reliable timetable, they get nowhere. A quandary.
It is also becoming apparent that storage facilities will have to be set up at the defined stops, because the producers cannot wait until the scheduled time. And for the bookings, local agents and a "booking system" are needed. Again and again, rethinking is required; many unforeseen events force rethinking and learning. But it has already been possible to carry out lorry journeys with cargo for many small customers, so things are already moving in the right direction.
"Tanzania Biashara Mapema" (TBM) is responsible for the reservations. The company ensures that marketing works from the village to the city. TBM is currently negotiating with reliable people from its wide network to act as cargo reservation agents. The aim is to engage a series of them along the route to the final buyers in Kigamboni, the port district of Dar es Salaam.
Financial loss from empty scheduled runs is still a major threat. The temptation remains to drop the innovation of a proper timetable and return to the opportunistic but unreliable business of of not driving until the truck is fully laden.
farip intends to help Francis and Rajan stay focused on implementing this great idea.
HISTORY
farip has provided a loan to help SCS get started. As collateral, Rajan, Francis and the ride marketer, TBM, have offered trees growing on their own soil. For farip, this also provides a great way to test the GRACOMA idea. Thus, favourable conditions have been created for this innovative idea to be tried out.
Thanks to farip, Francis and Rajan are now the proud drivers of a Scania 14.5 ton truck that has started pilot operation on the Makungu – Makambako route.