You'll find our newsletters in the newsletter archive.
Keeping supply chains in their own hands
Dar es Salaam, 2022-10-28. The vast majority of low-income earners in the major urban centers in Tanzania struggle to secure food of good quality at reasonable prices – even though this is by far the largest market for agricultural products.
What if the supply of agricultural products from rural producers could be sold through a separate network of points of sale in the cities, providing small amounts of healthy daily groceries in good quality?
A delegation of several members of the farip Foundation has just left for Tanzania to explore such a points of sale project in more detail. Among them are two students of the University of St. Gallen (HSG). They volunteered to dedicate their Master theses in Business Innovation to helping farip with a scientifically solid proof of concept/feasibility study. (Kudos and many thanks!)
The project idea is to set up small warehouses for depositing goods along the route of a truck providing "transport-by-schedule". Customers like Fatuma with her cookshop could store their deliveries there and pick them up according to their daily needs. A prototype of a point of sale in Dar es Salaam is on this blog's illustration. Stay tuned to read more about it here soon!
AGROFORESTRY WITH WILD FRUITS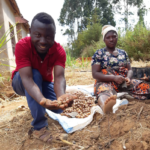 Magunguli, 2022-09-25. Ragpa Tweve and his wife Christina run a tree nursery for afforestation in Magunguli, Tanzania. They are now experimenting with propagating indigenous forest trees with edible wild fruits: Mikusu, for example, are very popular. They sell the seedlings to farmers for their reforestations. Their vision: Farmers are preserving the natural forest plus earn money by processing and marketing the wild fruits. They receive support from farip for their pioneering work. Our vision is a combination with the GRACOMA project: The trees enable CO2-sequestration in addition to yielding popular fruits.
SMARTPHONES USED IN COACHING
Kigamboni, Dar es Salaam, 2022-08-31. farip has received a dozen Samsung Galaxy 8 smartphones from the donor community, which are now being used by Elibariki in coaching and for communication with farip-supported ventures. Fatuma Sadiki, who previously had to borrow a mobile phone from friends, immediately demonstrates independence. She can now easily pass on information: "The smartphone helps me communicate with clients, I can also share information about my cookshop on social media and research new cooking techniques."
Fatuma has been running her cookshop in Kigamboni, the port district of Dar es Salaam, for almost a year now. In a difficult environment, she managed initial repayments on the farip loan – despite the sales drop during the Corona pandemic and the current price increases for cereals!
A next development step for Fatuma could be to operate a BOP ("bottom of the pyramid, i.e. for very low-income clients) sales point in Kigamboni together with TBM, for deliveries of agricultural products from remote rural parts of Tanzania.