farip seeks and explores ideas from proactive people in rural Tanzania on how they could supplement their income. We support motivated entrepreneurs to further explore and test their business ideas, and we link them to useful sources of information and competence-building.

Once they have the confidence and courage to get something going themselves, farip gives them small loans. They can then prove that their idea works in an experimental phase. The next step is crafting business plans with these small rural start-up companies, based on their real-world experience and actual parameters. Our goal is to help transform those start-ups into attractive investments. Once such start-ups can receive loans on normal terms, farip can withdraw its support.
---
Fattening cows, can this work?
Msowero, May 2023. I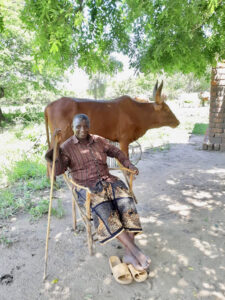 t all depends on the rain. Because the rains did not come last year, many farmers in Msowero were unable to harvest maize. Instead of selling it, they used the previous year's stored maize for sowing. This is why they could not pay back the advance payments from the trading company TBM. To stay in the maize business with TBM and pay off the debt quickly, they produced an idea: to buy skinny free-range cows cheaply from the Maasai and fattening them on their farm for five months. The proceeds will serve to pay off their debt. They hope that the rains will cooperate this year.
Testing the suitability of the GRACOMA idea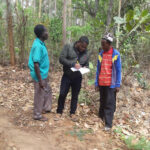 Magunguli, spring 2023. Our local partner and trustee Elibariki Tweve visits a forest plot of farmers in Magunguli. He is about to register the trees growing there as loan collateral. With a small-scale test run, farip is testing the suitability of the GRACOMA idea, which was developed by the farmers themselves: GRACOMA (Growing Assets Collateral Management) is designed to enable farmers who previously had no access to credit to offer growing trees as collateral for loans.
I need a reliable motorbike
Msowero, early 2023. "Karibu! I'm Menas Yapesa, a farmer in the extensive village of Msowero. I'm also the local liaison officer for the trading company TBM. That means travelling around the area, visiting farmers to look at their fields, maize stores and cows. I also organise TBM's sale of their produce. To do my job, I need a reliable motorbike.
Read why farmers prefer working with the TBM trading company…
A dedicated network of points of sale
The majority of the population in the cities has only a low income and is confronted with high prices from the retail trade. Fatuma Sadiki with her cookshop in Dar es Salaam, one of the many "Mama Ntilie", also has to stock up at retailers because she has not enough cash to buy and store her goods in bulk.

What if the supply of agricultural products from the inner country could run through its own network of sales points in the cities and thus good food could be offered at favourable prices without the intermediary trade? The transport with our own truck on the route from Makambako via Ruaha Mbuyuni to Dar es Salaam has already been solved, only the sales points are missing. farip is financing the pilot project "Points of Sale" in Tanzania. After seed funding for rent and equipment during the pilot phase, the sales points will have to become self-sustaining.
---
SCOUTING
How does scouting work? What is the pathway from idea to experimentation? How can an interesting idea from rural Africa be transformed into a successful small business? It takes scouting! This is what farip specialises in: "scouting". We pick up ideas brought to us by proactive people in rural Tanzania. farip then digs deeper and challenges these ideas, asking questions like: Who are the innovative potential entrepreneurs and their team members who want to bring this innovation to life? How do they organise themselves? Which technical tests can show whether the business idea is feasible? And where is the market for the products?
MAP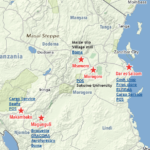 farip's ventures are concentrated in the southern highlands around Makambako and Magunguli, as well as along the cargo service's route to Dar es-Salaam, in Msowero and Morogoro. farip also supports ventures in Dar es-Salaam.
Updated: 2023-05-26